Meringue Powder 4 OZ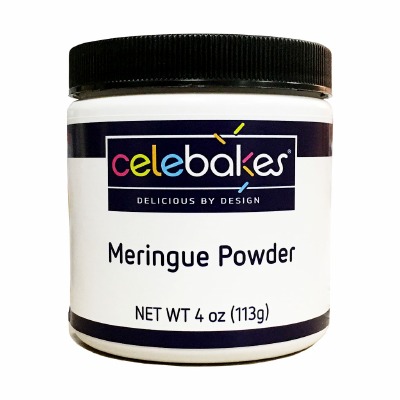 CK Products
Meringue Powder 4 OZ
Product Code: 7500-761504
$11.99
Description
Use Celebakes Meringue Powder, 4 oz to make your very own royal icing. As it can also stablize buttercrea icing or create fluffty meringue cookies. Meringue powder can also be used as an egg white subsitute in a variety of baking and decorating recipes!

Note:
Meringue can be customixd by using food color gel and flavors.

After opening, store in a cool dry place, away from strong odors; no refrigeration is required.

Kosher Pareve

Shelf Life: 18 months.

Royal Icing (Dry Hard Icing):
Into 1/2 cup of cold water, beat 1/4 cup of meringue powder until stiff peaks form. Scrape the sides of the bowl and completely mix the water and merginue. Gradually add 4 cups of sifted confectioner's sugar to make a stiffer icing. To keep the icing soft, add 3 drops of glycerin. A stand mixer provides the best results.

Buttercream Icing:
Dissolve 3/4 cup granulated sugar in 1/2 cup boiling water.Cool and add 1/4 cup of meringue powder and beat to stiff peaks. Stir in 1 pound sifted confectioner's sugar and beat until mixed well. Mix in 2 to 2 1/2 cups white vegatable shortening.

Meringue Cookies:
Dissolve 1 cup granulated sugar in 1/2 cup boiling water until completely dissolved. Add 1/3 cup of meringue powder and beat to high stiff peaks.Fold in 1 teaspoon of vanilla or any other desired flavors or colors. Pipe onto parchement or silicone lined baking sheets. Bake at 250 for 40-45 minutes until set. Meringue is done when they can be easily lifted off of the pan and bottoms are dry.

Egg White Substitute: 2 teaspoons of merginue powder and 2 teaspoons of water equals 1 egg white.
Reviews
Customer Reviews
This product has not yet been reviewed.