What's the Difference between Candy Coating and Real Chocolate?
Click Here To Shop For Clasen or Merckens brand candy coating.
The main difference between candy coating* and real chocolate is cocoa butter. Real chocolate contains cocoa butter, while candy coating contains other natural oils such as palm kernel oil. Real chocolate requires tempering before it can be used. While real chocolate requires tempering, candy coating may be melted, molded and allowed to set, it's that easy. Making beautiful professional chocolates is easy to do in your own kitchen with a few simple tools.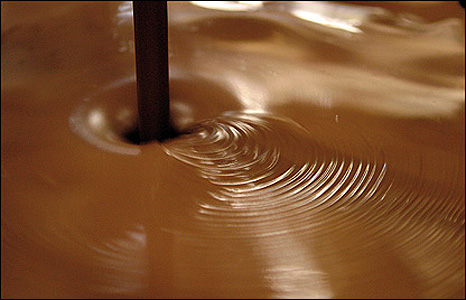 Candy coating is much less expensive than, real chocolate, and most people cannot tell the difference between real chocolate and good quality candy coating. Candy Coating is available at Cake Art in Milk Chocolate, Dark Chocolate and White Chocolate flavors, as well as Peanut Butter and Butterscotch flavors.
We carry Merckens®, Classen®, and Peters®, brand candy coatings. We also have available Peters® brand real chocolate. There are many more colors available to you in candy coating than you will find in real chocolate. We carry an array of colored candy coatings, most of which have a vanilla flavor. Mint flavored candy coatings are also available. If we don't have the color or flavor you desire Candy Coating can be colored and flavored using a wide variety of candy colors and flavors available at Cake Art.
Want to make a unique gift for someone special? Cake Art carries thousands of different candy molds that you can mold Candy Coating into just about anything you can imagine. We also carry a wide variety of candy boxes, candy foils, candy bags to give your creation a finishing touch.
At Cake Art, we teach a basic Candy Making Class several times a year. In this class, we explain the basics of candy coating and chocolate, and different candy making techniques. We teach how to make candy crunches, truffles, chocolate covered cherries, molded chocolates and much more. We always have plenty of samples and it's just plain fun!  Check our class schedule for the next scheduled class. 
*Candy coating is sometimes referred to as Summer Coating, Candy Melts, or Candy Wafers.