Shipping Information
Shipping Information:
Shipping Times & Methods: If all items are in stock, we will process your order received before 9:00 AM the same business day. Orders received after 9:00 AM will be processed either the same day or the next business day. We generally use United Parcel Service and the U.S. Postal System. The method used will be determined by Cake Art based on what is least expensive and fastest. The map below will give you an idea of the approximate amount of time it will take for your order to arrive once your order has been shipped.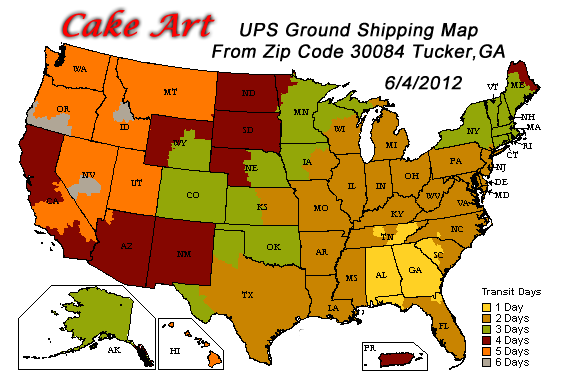 Special requirements: If you have an urgent need or a special shipping request please note the information in the comments section of your order, send us e-mail, or call us. If you have a shipping preference IE: you do not want us to use United Parcel Service because there isn't anyone home to accept your package, or you don't want us to use United States Postal Service because you don't have a mail box, please let us know so we can adjust accordingly. Small, lightweight orders are usually less expensive to send via United States Postal Service. Larger, heavier orders are usually better handled by United Parcel Service.

Backorders: We continually monitor our inventory and take great pride in keeping a high percentage of items in stock at all times, but there are times when items will be out of stock. If an item that you ordered is out of stock and we cannot ship your entire order within 72 hours we will notify you and hold your order until you tell us to:

1.) Hold your order until it can be shipped as a complete order. We will tell you the expected amount of time until we will receive your item(s).

2.) Ship what is immediately available, and ship the remaining item(s) when we receive them.

3.) Ship what is immediately available, and cancel the remaining part of your order.

4.) Cancel your entire order.

Shipping Food Products & Perishable Items: During hot weather usually May through September food products, chocolate, candles, etc. may become melted and/or deteriorate from excessive temperatures. We will do everything that we can to avoid this from happening to your order but Cake Art will not be responsible for damage or deterioration from excessive heat.

Please be advised that if your order contains food products or perishable items we may delay sending out your shipment to avoid having it sit in a UPS terminal over the weekend or holiday to help alleviate this problem. Please note that properly handled chocolate may be melted and re-melted many times without impacting the quality. It is not necessary that it be shipped in an expedited way unless actual melting temperatures are anticipated. If some softening or sticking of the chocolate occurs it will not affect the quality, simply re-melt and use.