Merckens 1 LB Super White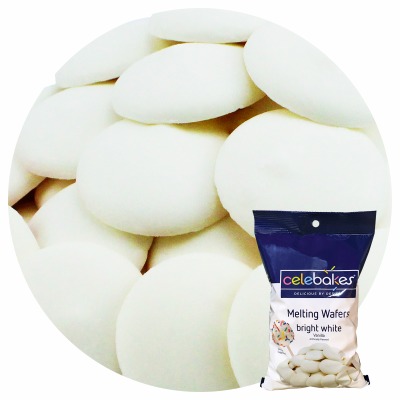 Merckens
Merckens 1 LB Super White
Product Code: 7500-702220
$5.99
Chocolate $5.19: mix and match:

| Qty: | Unit Price: |
| --- | --- |
| 5 | $5.19 |
| 20 | $4.89 |
Description
Use this Celebakes Bright White 1 Pound Melting Wafers to offer a smooth creamy texture for all you chocolate candy making needs. As this chocolate is Merckens® Candy Coatings which will provide the same consistency every time.

Directions:
Microwave: Place the melting wafers in a mircowave-safe dish or disposable decorating bag. Microwave on 50% power for 30 seconds; then stir or knead bag and repeat until wafers are smooth and completely melted.

Stove Top: Fill the bottom of the double boiler half-full with water and heat to a simmer. Place the double boiler securely and add melting wafers and continously stir util completely smooth and melted.

Heating Note: The Confectionary coating can resut in thickening if overheated or if liquid is added. If this occurs simply add vegetable oil or use Paramount Crystals to thin the consistency.

Storing: Store the melting wafers in a cool, dry place that is free from odors.

Heat Warning: Chocolate may melt in transit if the product is shipped during warmer temperatures. If the chocolate is melts it can be remelted.

NOTE: Once this product has been purchased it cannot be returned gjven that it is a food product. No Exceptions including if the chocolate has melted.
Reviews
Customer Reviews
Average rating:
---
Super White Chocolate
5 Stars
— Shelley Hardin
---
Merckens Super White Chocolate
Merckens Super White Chocolate.
— Shelley Hardin