Fat Daddio's Round Cake Pan 12" X 4"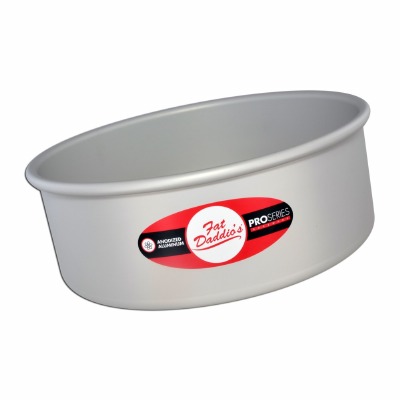 Fat Daddio's
Fat Daddio's Round Cake Pan 12" X 4"
Product Code: PRD-124
$24.99
Description
This solid bottom 4" deep round cake pan features straight sides, rolled rim, and uniform wall thickness; essential for professioinal results. Each pan is manufactured with a premium 3003 aluminum and anodized to promote easier cleanup, tremendous durability and baking efficiency.

Seamless and straight sided for perfect tiers everytime. Anodized aluminum ensures that your cakes bake evenly, giving you a nice rise, and cool quickly preventing overbaking.

Easy release and clean up
Heats faster and cools quicker
Even heating - NO hot spots!
Will NEVER rust, chip, flake or peel
Available in 2", 3", and 4" depths
Available through 18" diameter
Temperature rated to 550° F
Hand wash recommended
Reviews
Customer Reviews
This product has not yet been reviewed.