12" X16" Rectangular Turntable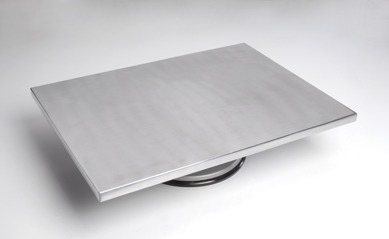 Ateco
12" X16" Rectangular Turntable
Product Code: 614A
$106.99
Description
This rectangular cake stand is designed for use with half-size sheet cakes and has stainless steel ball bearings, which makes it rotate and revolve smoothly, allowing you to add latticed piping or perfectly place those colorful, icing flowers.

Without having to constantly move your cake around, this rotating stand makes your cake decorating progress more efficiently! The soft plastic cap on the bottom of the stand keeps it from sliding, keeping your bakery masterpiece safe and sound and in one piece. Made of aluminum, it is durable and reliable, capable of holding as many tiers as your heart desires.

Overall Dimensions:
Length: 16"
Width: 14"
Height: 4"

Should not be immersed in water.
Reviews
Customer Reviews
This product has not yet been reviewed.