Fondant Work Mat 24"X36"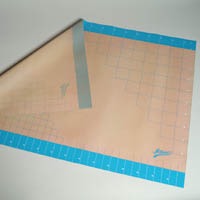 Ateco
Fondant Work Mat 24"X36"
Product Code: 698
$57.99
Description
?Non-stick surface for rolling out fondant or gum paste. Easy to read grid allows you to roll out proper size to cover your cake. Measures 36" x 24" x .03" Now thicker and heavier. Will not delaminate, even when put through a sheeter. Made of fiberglass surrounded in 100% food grade silicone. FDA and LMBG approved.
Reviews
Customer Reviews
This product has not yet been reviewed.